FMA110 – internal high gain GNSS and GSM antennas
FMA120 (with internal battery)
Small and professional tracker with internal high gain GNSS and GSM antennas
Technology

Hardware

Firmware
Product Description
New generation GSM/GNSS module

With new integrated GSM/GNSS module, your tracking experience will be better than ever before. Even higher sensitivity, faster than ever cold start and almost instant hot start ensures that your fleet will be tracked precisely.

1-Wire

1-wire protocol support enables you to identify your drivers and connect up to 4 temperature sensors. According to iButton® or RFID ID you can prevent unauthorized access to your fleet and temperature sensors allows you to monitor your cargo.

Small case

Easy to install, hard to find! Small case, internal GSM and GNSS antennas allow mount tracker much easier. Dimensions only 65x57x19 mm.

Various vehicle CAN data

With additional Teltonika Vehicle CAN adapters you will be able to acquire CAN data from any kind of transport such as light vehicles, trucks, buses, agriculture transport, and special transport. Supported vehicles list contains more than 1800 models.

Trip detection

Easy trip start and stop detection gives you possibility to have the report with correct time, location and driven distance for each trip.

Internal battery (FMA120)

Feel safe when vehicle is monitored by device with internal battery. When vehicle battery is disconnected, device still remains online and sends data to server.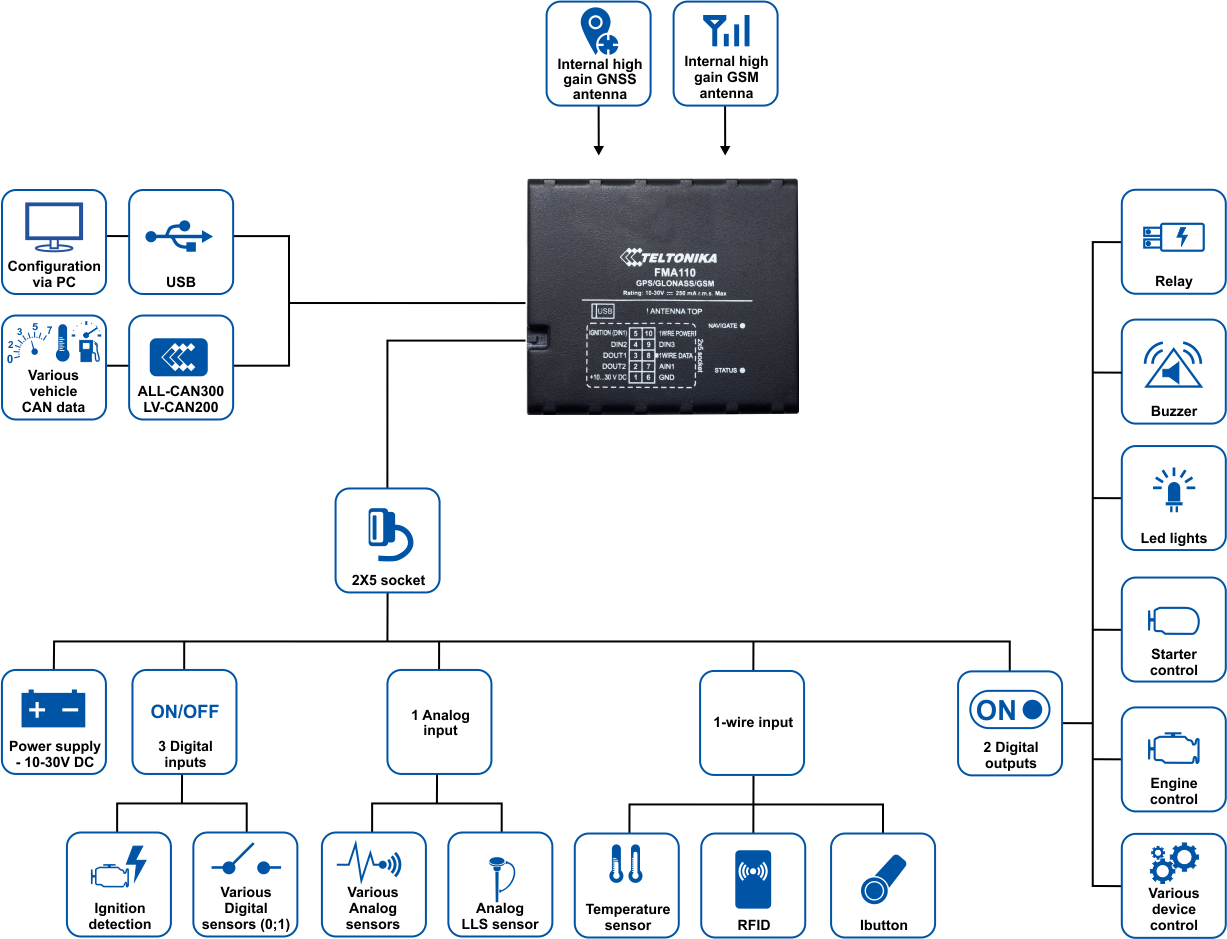 Product features

TECHNOLOGY

GNSS i

Global positiong system/Global Navigation Satellite System.



GPRS i

General Packet Radio Service (GPRS) is a packet oriented mobile data service based on the 2G technology.



SMS i

Short Message Service (SMS) is a text messaging service component.






HARDWARE

Internal GSM antenna i

An antenna used for GSM connectivity. Integrated into FM device PCB. Does not have external connector.



Internal GNSS antenna i

An antenna used for GPS connectivity. Integrated into FM device PCB. Does not have external connector.



DIN – digital input –

3

i

Digital Inputs allow device to detect logic states 1 (enabled) or 0 (disabled).



AIN – analog input – 1 i

An analog input converts a voltage level into a digital value that can be stored and processed in device.



DOUT –

2

i

Digital Outputs allow device to output logic states 1 (makes a circuit) and 0 (cuts the circuit).



1-Wire® –

1

i

1-Wire® is a device communications bus system that provides low-speed data, signaling, and power over a single conductor.



Accelerometer i Accelerometer allows the device to indicate if vehicle is
moving or not, as well as measure acceleration.

Battery –

170mAh Li-ion 3,7V (FMA120)

i

Allows device to work without external power source



IP41 i

Protected from tools and small wires, condensation.





10 – 30V i

External voltage range



Overvoltage protection i

Protects device from voltage jumps till 90V



1x SIM Card  i

Allows to put 2 SIM cards (can be from different operators) for internet connection



USB 2.0 Interface i

Device accessible and configurable via USB




FIRMWARE

Ignition detection i A vehicle ignition detection function, based on a configured ignition source (External power voltage, Digital input 1 or Movement).


LV-CAN supporti

LV-CAN200 is used to listen data from light vehicles. With this adapter FM device is able to collect and send such data.



ALL-CAN supporti

ALL-CAN300 is used to listen data from any type of transport: light vehicles, Trucks, busses, agriculture and other special transport. With this adapter FM device is able to collect and send such data.



Geo-fence i A functionality, which generates an event when crossing a defined area. It can be used to detect wherever car enters or leaves customized areas


Sleep/Deep sleep i Working modes which let FM device to reduce power consumption and save vehicle battery.
– In sleep mode, FM device turns GNSS module off and it is not saving or sending new periodic data records.
– In deep sleep mode, FM device sets GNSS receiver to sleep mode and turns off GSM/GPRS module, although periodic records with last known coordinate are being saved and sent to server.

Overspeeding detection i

This scenario helps to prevent from exceeding fixed speed and inspects driver if needed. Digital output 1 is controlled by scenario for user needs, to manage buzzer, LED etc. During overspeeding event Digital output 1 will be turning ON and OFF until speed is lower than configured Max Allowed Speed.



FOTA i Firmware over the air solution. The software is used to send firmware/configuration to FM device via GPRS network.


Remote Logi

This type of FM data logging is used when there is no possibility to connect to device physically. Device establishes GPRS connection and activates link to server, log is started to stream to server until set time is elapsed.



GPRS commandsi

It is possible to send commands to FM device using GPRS. GPRS commands can be used for sending configuration, debug, digital outputs control commands etc. These commands should be coded into a special codec12 format.



RFID 1-Wire® i

Radio-frequency identification (RFID) is the use of a wireless non-contact system to transfer data from a tag attached to an object, for the automatic driver identification. Reader can be connected to FM device via 1-wire interface.



iButton 1-Wire® i


iButton is a special driver identification chip based on 1-wire protocol. External 1-wire iButton reader can be used in parallel with FM devices



Temp. 1-Wire® i

A temperature sensor which can be connected to FM device and provide information via 1-wire data protocol.



Immobilizer i

With this scenario vehicle can be used only if iButton is connected. You can connect any iButton to pass Immobilizer security. FM device Digital Output 2 is controlled by scenario for user needs (for example: LED, buzzer or other indicator can be connected).



Green driving i

Helps to prevent and inspect driver about harsh driving. This functionality works in parallel with accelerating force, braking force and cornering angles. Every harsh drive event can be presented in the real time during the LED or buzzer notification.



Fuel monitoring LLS i

Fuel monitoring via LLS sensors gives ability to measurer are highly accurate fuel level in the vehicle. This functionality can be based on digital or analog connectivity.



Jamming detection i

Jamming detection informs the driver with buzzer or LED about radio jamming events.



NTP time synch.i

Network time protocol (NTP) is used to get the right time without GPS connection. This functionality gives an ability to monitor the device state in the real time.



SMS event i

SMS event is a special functionality which is used to notify the user about the tracker initial state. Any changes of speed, engine status, over speeding or etc. will be informed with SMS.



Idling detection i

The Idling detection functionality allows User to monitor the engine working time without initial speed.



Crash detection i

Crash detection functionality is generating the record when device detects car accident using the internal sensors (Accelerometer).



Odometer i

Odometer is used to calculate traveled distance and produce this information directly to server.



Trip detection i

Trip detection is used to inform user about start and stop points in the dedicated location, while engine is on or off.



Towing detection i

Towing detection feature helps to inform the User about car deporting. The quick event will be sent to server while towing is detected.



Integrated scenarios i


The integrated device scenarios are used to simply enable the dedicate functionality like Green driving, Over speeding, Authorized driving or Immobilizer.



Remote configuration over SMS i

The remote configuration via SMS gives an ability to configure the device via SMS



Offline tracking i

Offline tracking is used to track the object position while GPRS is not activated.



Auto Geofencing i

Auto geofencing can detect wherever car enters or leaves customized areas with deactivated ignition.



GSM
Quad-band 900/1800 MHz; 850/1900 MHz
GPRS Multi-Slot Class 12(up to 240 kbps)
GPRS Mobile Station Class B
SMS (text/data)
GNSS
Tracking: 33/ 99 acquisition channels
-165 dBM sensitivity
Hot start <1s
Warm Start < 25s
Cold start < 35s
NMEA-183 protocol
GPS, GLONASS, GALILEO, BEIDOU, SBAS, QZSS, DGPS, AGPS
Accuracy < 3m
INTERFACE
1 Digital Input Reserved for Ignition Status Monitoring
2 Digital Inputs
1 Analog Input (10V or 30V range)
2 Digital Open-collector Outputs (connecting external relays, LED, buzzers etc.)
1Wire® temperature sensor
1Wire® iButton
Motion sensor
Power supply (+10…+30) V DC
Internal high gain GSM antenna
Internal high gain GNSS antenna
Dimensions: L(65mm)xW(56,6mm)xH(18,9mm)
2 Status LEDs
USB Port
Integrated LiPo back-up battery (FMA120)